Published on the UNLV News Center website
January 14, 2013
Simon Keith got sick of being the "heart guy" and spent two decades trying to ignore his status as a transplant recipient. Then he got a reality check—and a new goal in life.
…
Keith looks like a normal guy. He's a handsome man in his 40s. He's in shape, well-dressed, and groomed. Never in a million years would you think, "I bet he's had a heart transplant." Keith is one of the longest living heart transplant recipients, and has lived the majority of his life with his second heart.
"Being normal, having a normal life — a family, a successful career — that's my greatest accomplishment," Keith said.
This comes from a man who at 18 played on his first professional soccer team, at 21 underwent a heart transplant, who then went on to collegiate and professional soccer teams, was named the No. 1 overall pick in the 1989 professional indoor soccer draft by the Cleveland Crunch of the Major Indoor Soccer League (MISL). After retiring from soccer, he became a successful entrepreneur.
Keith grew up in a sports-focused family, and by the time he graduated high school, he was playing soccer on a professional level in Canada and then in England. But in 1984, when he was just 19 years old, Keith was diagnosed with myocarditis, a deterioration of the heart muscle. For nearly two years, Keith played with an ill-functioning heart and body. Games and practices often were followed by trips to the hospital. But Keith would not give in to his health problems.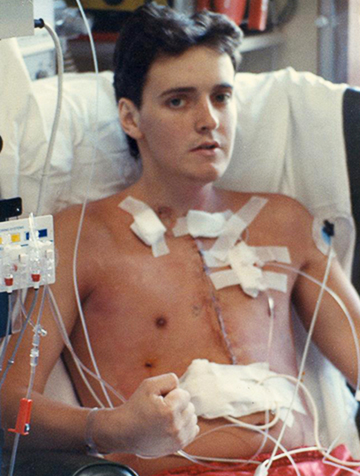 In 1986, Keith's parents took him to England, his birthplace, to investigate heart transplant surgeries. Later that year, he was given a new heart. He recovered swiftly and immediately returned to playing soccer in Victoria, Canada, where he grew up. The only problem was that he was no longer known as "Simon Keith, a great soccer player," instead he was "Simon Keith, the heart guy."
"Returning to Canada was tough. (In Victoria), there were about 400,000 people, and I promise you, every person there knew my name," Keith remembered. "I couldn't do anything without people following me around, asking me questions, wanting to film me. I was 21 years old, and I couldn't live. I had to leave. I had to escape from there.
"Las Vegas greeted me with open arms."
He came here to visit his brother, Adam, '89 BS Marketing, who played on the UNLV soccer team. He met with then-head soccer coach Barry Barto and tried out for the team. Despite his medical history, the athletics department offered him a full-ride scholarship, assuring Keith that his health history would remain confidential.
"When Simon came here, obviously, there was a lot of concern and apprehension," recalled Jerry Koloskie, senior associate athletics director. "There wasn't even a cardiologist here in town that had ever dealt with a transplant patient. But we decided that we just needed to move on and treat him like we treated everybody else and let him enjoy the college experience. We would provide the most reasonable care, but we decided not to make this a day-to-day issue, and really that's the way Simon approached it. He just wanted to be a soccer player and a regular student."
For two years, UNLV and Las Vegas in general provided Keith the escape he was looking for. "It allowed me to be a guy," Keith said. "People didn't know who I was. They didn't know my whole life story. I could grow up, be a little reckless, and have some fun."
In his senior year, Keith once again was drafted by a professional team. He put his education on hold and went on to play with the Victory Vistas, the Winnipeg Fury, and the Montreal Supra of the Canadian Soccer League. And he once again became "the heart guy." After games, his teammates would explore the city. Keith, however, was rushed to media events where he would be interviewed not about his performance, but about his heart surgery.
In 1992, Keith retired from his professional soccer career, happy to leave the spotlight. He returned to UNLV to finish his degree in physical education. He launched his first company in 1994 and continued to start and sell companies for more than 10 years. He got married. He had three children. Finally, people stopped talking about that heart transplant.
It wasn't until 2011, when Keith was asked to give a speech about his experience to a group of organ donor organizations, that everything changed. Long removed from the spotlight, he spoke about how he couldn't handle being "the heart guy."
Afterward, he received less than favorable remarks. The audience was turned off by Keith's disregard and lack of appreciation for his second heart.
"That speech was life-changing," Keith said. "At the time, I really didn't know what I was talking about when it came down to organ donation and transplantation. I only knew anecdotally what I experienced, so I set about a course to learn."
He is now chief operating officer of the Nevada Donor Network, the state's procurement organization. He has established The Simon Keith Foundation to help, motivate, and bring comfort to those experiencing organ transplants and to their families. He now actively speaks about his transplant experience and published a book, Heart for the Game, in May 2012.
Since 2011, Keith also traveled back to England to meet the family of his heart's donor. There he discovered that his heart had belonged to a 17-year-old boy who collapsed and died while playing soccer.
"I feel a different responsibility now. I really feel like I can make a difference," as "the heart guy."